Dutzende vom Aussterben bedrohte Pinguine wurden getötet, nachdem sie von schwärmenden Honigbienen in die Augen gestochen wurden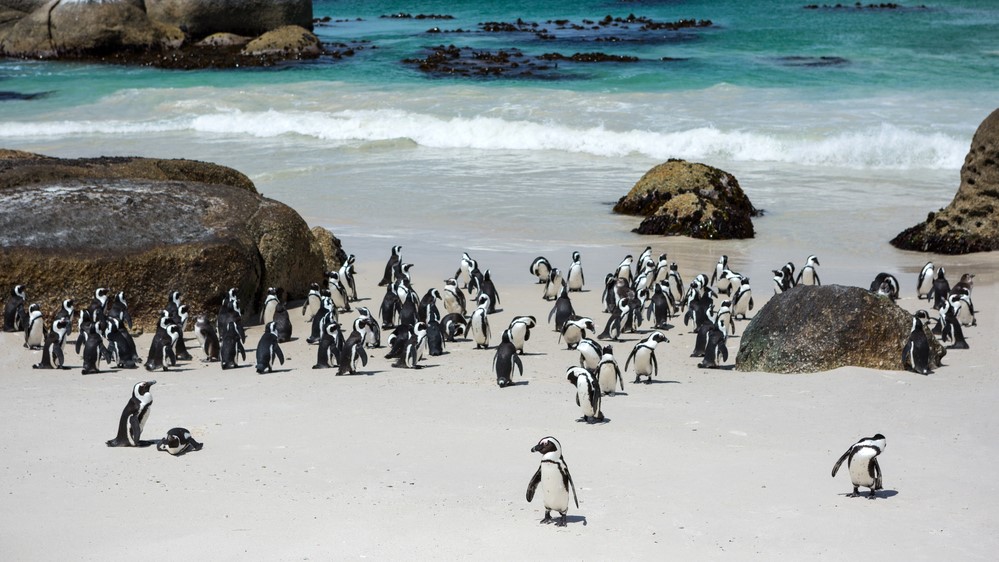 Bei einem bizarren Vorfall wurden 64 gefährdete afrikanische Pinguine (Spheniscus demersus) wurden in Südafrika getötet, nachdem sie von Kap-Honigbienen in und um ihre Augen gestochen wurden (Apis mellifera capensis).
Ranger der South African National Parks Organisation (SANParks) entdeckten 63 der 64 Toten Pinguine in einer Kolonie in der Nähe von Kapstadt im Tafelberg-Nationalpark am Freitag, den 17. September. Afrikanische Pinguine sind in Südafrika eine geschützte Art und werden derzeit von der Internationalen Union für die Erhaltung der Natur (IUCN) als gefährdet eingestuft. rote Liste, mit rund 42.000 erwachsenen Personen weltweit.
"Die Todesfälle traten plötzlich irgendwann zwischen Donnerstagnachmittag und Freitagmorgen auf", sagte SANParks in einem Facebook-Post. "Bei keinem der Vögel wurden äußere körperliche Verletzungen beobachtet."
Verwandt: Die 10 seltsamsten medizinischen Fälle im Tierreich
Die toten Vögel wurden für Autopsien (Tierautopsien) zur Southern African Foundation for the Conservation of Coastal Birds (SANCCOB) transportiert, um herauszufinden, warum so viele Pinguine plötzlich gestorben waren.
"Nach Tests fanden wir Bienenstiche um die Augen der Pinguine", sagte David Roberts, ein klinischer Tierarzt bei SANCCOB, der französischen Nachrichtenagentur AFP. "Es waren auch tote Bienen am Tatort."
Die führende Hypothese ist, dass ein Schwarm von Kap-Honigbienen die Pinguinkolonie angegriffen hat, obwohl unklar ist, warum die Bienen die Pinguine angriffen oder warum sie sie besonders um ihre Augen stachen, sagte SANParks.
"Dies ist ein sehr seltenes Ereignis", sagte Roberts. "Wir erwarten nicht, dass es oft passiert, es ist ein Zufall."
Ein weiterer toter Pinguin mit Stacheln um die Augen wurde am Samstagmorgen (18. September) an einem nahe gelegenen Strand entdeckt; Dieser Pinguin starb wahrscheinlich an dem ersten Bienenangriff und nicht während eines zweiten Angriffs, sagte SANParks.
"Heute wurden keine toten afrikanischen Pinguine mehr vor Ort gefunden, und wir werden die Situation weiterhin beobachten", sagte Alison Kock, Meeresbiologin bei SANParks, in der Erklärung am Samstag.
Ursprünglich auf Live Science veröffentlicht.