Die Google-Suche hat ein Batman-Osterei; Sehen, wie es funktioniert!
Der mit Spannung erwartete Film "The Batman" mit Robert Pattinson als Kreuzritter in der Hauptrolle soll am 4. März in die Kinos kommen. Jetzt, vor seiner offiziellen Veröffentlichung in den Kinos, hat Google ein lustiges interaktives Osterei in der Google-Suche hinzugefügt. Batman-Fans können die Anwesenheit des dunklen Ritters auf ihrem Desktop und Handy erleben, während sie nach dem Film suchen. Schauen wir uns an, wie es funktioniert.
Google-Suche fügt Batman-Osterei hinzu
Google bietet viele lustige und interaktive Ostereier, um beliebte Veranstaltungen, Shows, Filme und so weiter in seiner Suchmaschine hervorzuheben. Die neueste Ergänzung ist die neue Batman-Themen-Suchergebnisseite, mit der Benutzer ein Gefühl für die Batman-Welt bekommen können.
Das Batman-Osterei in der Google-Suche ist nur für einige wenige spezifische Suchbegriffe verfügbar, darunter "Bruce Wayne," "Gotham City," oder "Fledermaussignal." Es ist sowohl auf dem Desktop als auch auf dem Handy verfügbar, und Sie können jeden Webbrowser Ihrer Wahl verwenden, um das Osterei zu erleben.
Wenn Sie also die Google-Suche öffnen, geben Sie einen der oben genannten Ausdrücke ein und tippen Sie auf die Suchschaltfläche. Auf der folgenden Suchergebnisseite Sie werden das ikonische Fledermaussignal sehen (Screenshot unten), der von Jim Gordon verwendet wird, um in Krisenzeiten in der Film- und Comicserie die Bürgerwehr anzurufen.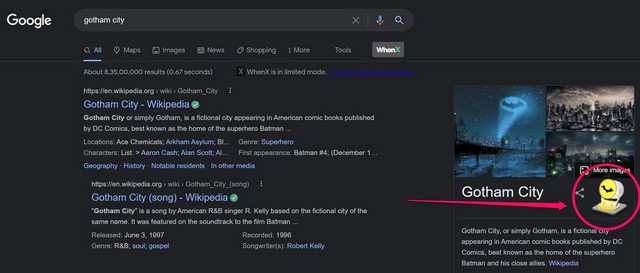 Durch Antippen oder Klicken auf das Fledermaussignal wird das Osterei initiiert, das einen stürmischen Nachthintergrund auf der Suchergebnisseite zeigt, zusammen mit dem leuchtenden Fledermaussignal, das darüber gelegt wird. Du wirst auch hören Sie die Geräusche von Donner und Regen während des gesamten Erlebnisses. Nach ein paar Sekunden hören Sie ein Greifgeräusch, bevor Sie den Schatten von Batman über Ihren Bildschirm schwingen sehen. Sie können sich das Video unten ansehen, um eine Vorstellung davon zu bekommen, wie das Batman-Osterei in der Google-Suche funktioniert.
Berichten zufolge Warner Bros. Pictures hat Google nicht gesponsert, um das Osterei zu seinen Suchdiensten hinzuzufügen. Es wird auch offenbart, dass das Osterei ein Jahr lang in der Google-Suche erscheinen wird. Wenn Sie also ein Batman-Fanatiker sind, empfehlen wir Ihnen, dieses Osterei gleich jetzt auszuprobieren. Teilen Sie uns auch Ihre Gedanken dazu in den Kommentaren unten mit.
Der neue Batman-Film folgt den Anfängen des kriminellen Bürgerwehrmanns von Gotham City und zeigt ihn, wie er mit einigen seiner legendären Feinde, darunter Oswald Cobblepot, alias The Penguin (gespielt von Colin Farrel), Kopf an Kopf geht. und The Riddler (gespielt von Paul Dano). Es spielt auch Zoë Kravitz als Selina Kyle oder Catwoman, die eine bittersüße Komplizin von Batman ist.